Year 2
Curriculum Yearly Overview Year 2 2018 19
Welcome to the Summer term
We hope you've had a lovely Easter holiday. We have a wonderful half term full of lots of exciting new things.
Please do not hesitate to contact us if you have any concerns or questions, we are always happy to help.
Miss Dawson
Miss Hugill
Wind in the Willows
This half term our topic is 'Wind in the Willows'. This topic will be covered through Science, Geography, Design and technology and Music.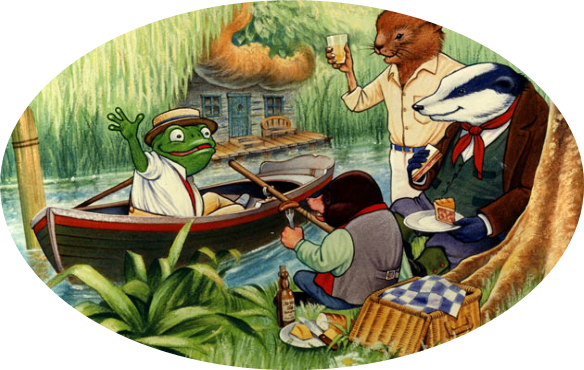 Science
We will explore and compare the differences between things that are living, dead, and things that have never been alive. We will identify and name various plants and animals in their habitats including learning about what they eat.
Geography
In Geography we will be learning about seasonal and daily weather changes.
Design and Technology
In Design and Technology we will be making our own puppets to retell a story or a nursery rhyme to a younger child. During these lessons we will be experimenting using different fabrics.
Music
In Music we will be listening to a range of songs related to our theme. We will learn to understand and know how music is used descriptively for a particular purpose.
Maths
This half term we will be learning about various areas in Maths including;
Place value of numbers relating to statistics
Addition and subtraction
Fractions
Position, direction and time
2D and 3D shapes
We teach the children to solve problems through practical methods and real life situations that they will be able to use in the 'real world'.
Try these links below to play and practise various areas of Maths.
http://www.topmarks.co.uk/maths-games/7-11-years
http://www.ictgames.com/resources.html
English
This half term we will be writing our own adventure stories, writing a recount in the role of a character from a story in the form of a letter.
Suggested texts to read related to our units covered this half term;
The Day the Crayons Quit by Drew Daywalt.
Letters to Anyone and Everyone by Toon Tellegen (selected sections).
'The Wind in the Willows' by Kenneth Grahame or 'The Tale of Peter Rabbit' by Beatrix Potter.
Meerkat Mail by Emily Gravett.
Dear Peter Miniature Letters by Beatrix Potter.
Dear Teacher by Amy Husband.
Yours Truly, Goldilocks by Alma Flor Ada.
Dear Peter Rabbit by Alma Flor Ada.
Ducks' Ditty from Wind in the Willows by Kenneth Grahame.
The Wind in the Willows: the Original Movie.
The Owl and the Pussycat by Edward Lear.
Computing
In Computing this half term we will be continuing to learn about the unit, strange creatures. Within this unit of work the children will learn to use various different skills to create their own digital books combining: text, images, and sounds.
RE
In RE we will be learning about the faith of Islam. We will learn about Muslim practices and beliefs linked to prayer. We will explore one of the Five Pillars and what it symbolises and relate these to matters in our own lives.
Phonics
Everyday the children have 20 minutes of phonics. Phonics enables the children to become better readers which then impacts on their writing. We want children to become confident readers.
Reading
Children read a couple of times a week to the class teacher or TA. We believe that reading is very important and encourage children to read for at least 10 minutes everyday.
P.E
The children have P.E lessons on Mondays and Thursdays. Please ensure your child has their P.E kits in school on these days. Children should have the correct P.E kits as stated in the Uniform policy. P.E kits will be sent home at the end of every half term to be washed.
Home Learning and Spellings
Home learning is given out every Friday and is alternated between Maths and English each week. It expected to be done by following Wednesday. Spellings are given out on Mondays. Children are taught spelling strategies within grammar and phonics sessions at school which they can also use and apply to practise spellings at home. Children have weekly spelling quizzes every Friday.