Wednesday 3rd February
Wednesday 3rd February
National Story Telling Week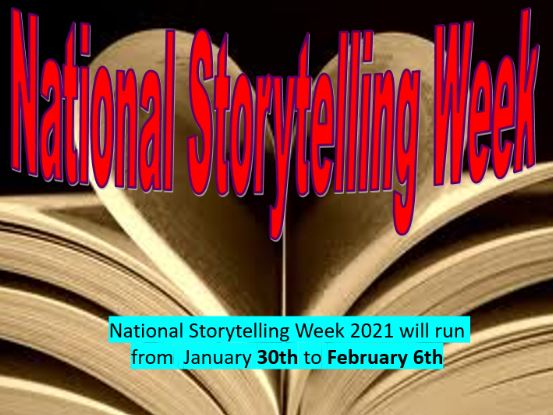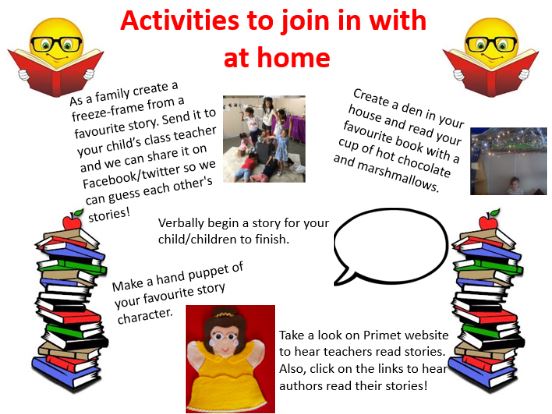 Could you read a story of your own. Perhaps film yourself reading a short story that you like or a chapter of your favourite story so we can put it on our website. Have a look at the stories told by staff at school at the top of the our learning page.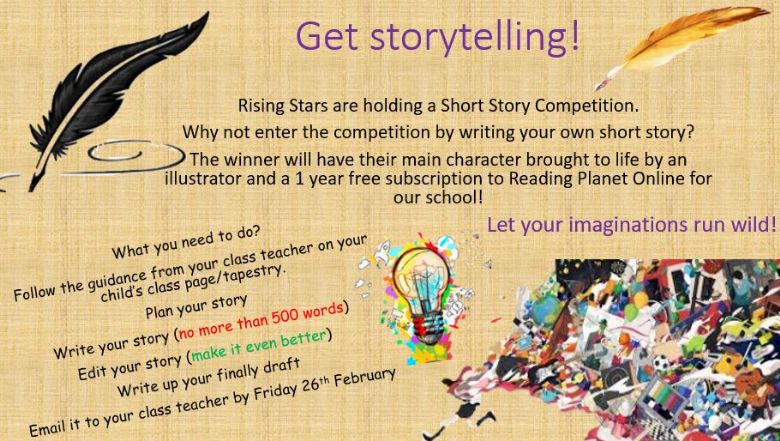 Arithmetic
Watch the video and complete the calculations. Please continue the video to mark your work and send me your score.
GR
Watch the video and complete pages 12 and 13
Maths
Watch the video and complete the tasks in the maths workbook.
English
Please watch the video and send me a picture of your completed work.
Science
https://classroom.thenational.academy/lessons/what-is-a-formulation-74r32t
Follow the link to today's lesson. Draw the table in your book or on your paper when prompted and, if possible, carry out the experiment shown- you will need squash, water and a spoon for the experiment. If you don't have these available, don't worry- just fill in your results with the teacher on screen. Make sure you complete the table with the data from the experiment and pause the video on the 'Conclusions' questions. Answer each of these questions in your book.
Send your table and your answers to the conclusion questions to missrichards@primet.lancs.sch.uk
Mental Heath Awareness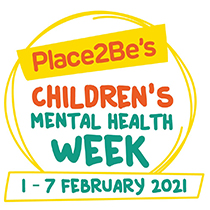 All over the country children are taking part in Children's Mental Health Week. We at Primet would love you to join in too. The theme this year is Express Yourself. Self- expression is a great way to communicate how we feel and we've added a few activities for you to have a try at home. You could try the art, music, or movement activities or just dress to impress and express yourself. There're some ideas on the link for you to try after you have watched the assembly on Monday 1st February at 9am. It should be super fun and we would really like it if you could send in some photos of you (and maybe your family!) joining in.
Take care and if you need any help please ask.
Mrs Riley (MrsRiley@primet.lancs.sch.uk)
Link to virtual assembly
https://www.childrensmentalhealthweek.org.uk/news/children-s-mental-health-week-assembly-with-bafta-kids-and-oak-national-academy/
The link to the parent/carer advice
https://www.dropbox.com/sh/aaxc4t19k25w8yi/AAAqiWoE0r9cUnGUC_bFq7WOa?dl=0&preview=CMHW2021+-+sharing+with+parents+and+carers.pdf
Links to activities
https://www.dropbox.com/sh/aaxc4t19k25w8yi/AAAqiWoE0r9cUnGUC_bFq7WOa?dl=0&preview=Express+Yourself+-+Primary+Group+Activities.pdf
Pendleside Hospice Art Competition
We thought that it may be a nice idea to bring a little cheer into our lives at this time so we have designed an art competition which we thought you may be able to do with the children, either in school or remotely for those at home. The idea is for the children to draw, paint or craft a sunflower. They can then email a photo of this to us for judging and the winning design will be used on all the marketing material for our sunflower memories appeal 2021. We would also love for children to put their sunflowers in their windows at home, like they did with their rainbows in 2020 and let's see if we can spread a little brightness in these times.
I very much hope that you will be able to support us with this and if you have any questions, please do not hesitate to contact me.
Take care and stay safe,
Jo x