Super Simple Scones
Super Simple Scones
These scones are really delicious and super easy to make. Remember before you start please ask an adult for permission and to help you with the oven bit.
The ingredients you will need are:
225g self-rising flour
A pinch of salt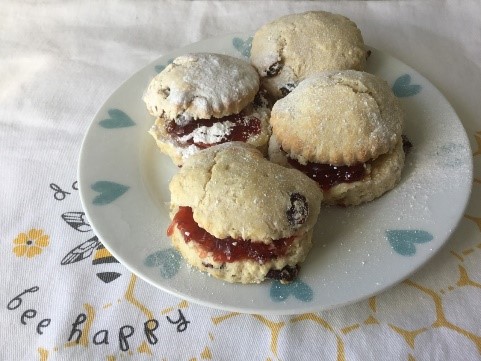 50g cold butter cut into pieces
25g caster sugar
120ml milk plus a little extra for brushing on top
If you want to make them super tasty you can add 50g in total of sultanas, dried fruit or chocolate drops.
Wash your hands.
Ask your helper to turn the oven onto 220C/Gas 7.
Lightly grease a baking tray with a little butter or line with baking paper.
Put your flour, sugar and salt into a bowl and mix round (you can use your fingers). Add your butter and rub into the four mix until it looks like breadcrumbs.
If you are adding chocolate drops or fruit now is the time to put them in the bowl.
Add the milk to the mixture and stir round until it all binds together (a bit like playdough)! Knead the mixture for about 3 minutes.
Gently roll out your mixture on a clean work surface, (sprinkled with a bit of flour so it doesn't stick), until it is nice and even about 2cm thick.
Cut out the shapes with a biscuit cutter or plastic cup, place them on a baking tray, brush them lightly with a bit of milk, (this will give them a nice shiny top), then ask your helper to put them into the oven for you.
Bake for about 12-15 minutes. Let them cool on a rack for about 5 minutes.
Cut in half, spread with butter and jam and enjoy!
Remember to take some photo's, hope you enjoy your scones and don't forget to help with the washing up!