Wednesday 6th January
Wednesday 6th January
Arithmetic
Please complete the arithmetic for today: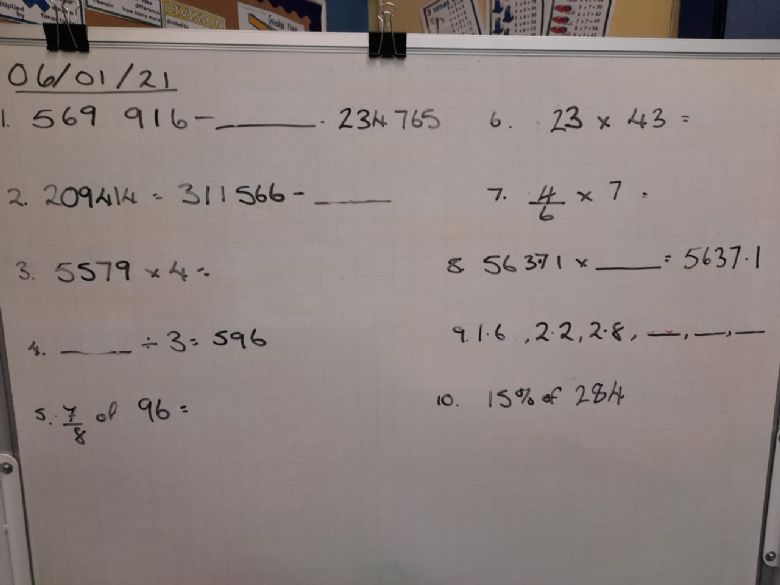 Please watch the video and send me your mark out of 10.
Maths
Please watch the video below and then complete the work that can be found at the bottom of the page.
The answers are also there so mark your own work and then send me a photo of your marked work.
English
Please watch the video and follow the instructions to make a warning poster for the Grendell.
Science
Please see the e-mail from Miss Richards for your login details. A copy of this is attached below, please contact Miss Richards if you have any problems or you have not received this e-mail.
Good evening,
Please find below information for xxx to access our Science lesson tomorrow.
It is available on the website: https://www.developingexperts.com/
Developing Experts provides a growing library of over 700 interactive online science lessons with fun science experiments, handouts and assessment for learning activities, fully mapped against multiple curricula including the Science National Curriculum KS1, KS2 and KS3.. Our assessment tools enable you to easily track each child's progress through our interactive online science quizzes, with ...
www.developingexperts.com
xxx will need click on the login tab. Then select 'I'm a pupil'. xxx will then need to choose "Primet Primary School" on the 'Select your school' tab and enter XX pupil number: XXXX (attached on e-mail)
Once xxx has entered the site, XX will need to go through the presentation and watch the videos within it. XX can then do the 'Rocket Word Quiz', 'Wordsearch' and assessment quiz. The results of this will then be sent through to me.
If you have any problems accessing this, please do not hesitate to let me know.
Kind regards,
Miss Richards