Monday 1st February
Monday 1st February
National Story Telling Week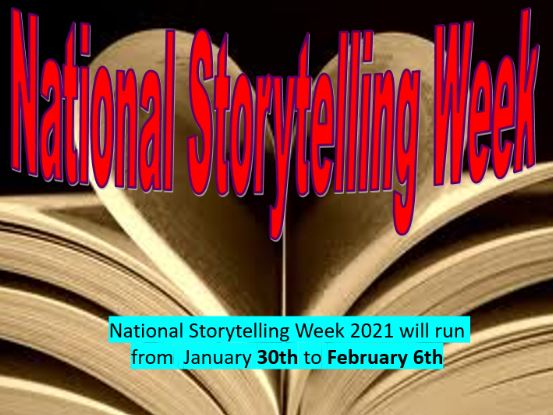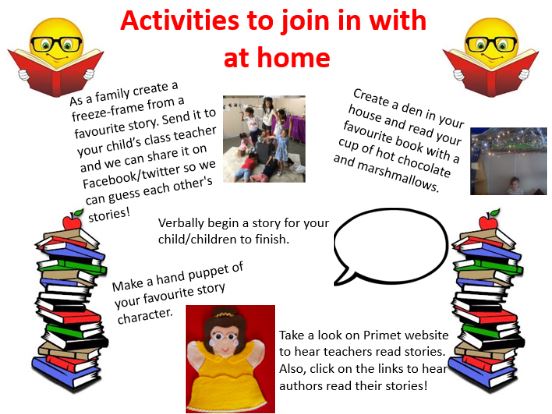 Could you read a story of your own. Perhaps film yourself reading a short story that you like or a chapter of your favourite story so we can put it on our website. Have a look at the stories told by staff at school at the top of the our learning page.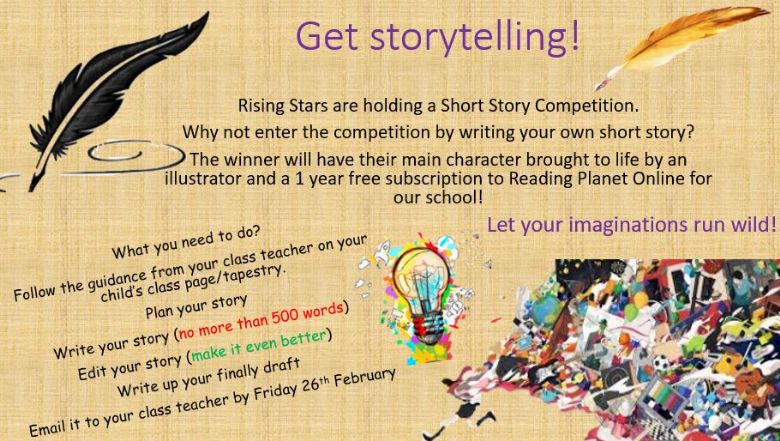 Arithmetic
Watch the video and complete the calculations. Please continue the video to mark your work and send me your score.
Spelling
Watch the video and complete the task to learn the spellings for this week.
Maths
Watch the video and complete the tasks. Send in a picture of your work.
English
Please watch the video and create your own annotated diagram of your monster.
PSHE
Watch the video: https://youtu.be/vx50PQHqx78
Task: Write a persuasive letter to the people of Sugar Smart World to convince them that they shouldn't have too much sugar, that they can easily find out how much sugar is in their food and drink and that they can make lots of tasty everyday sugar swaps.
The Sugar Swaps video can be found here: https://www.youtube.com/watch?v=3Ok7J9Ztdxg
Send your completed persuasive letter to missrichards@primet.lancs.sch.uk
Mental Heath Awareness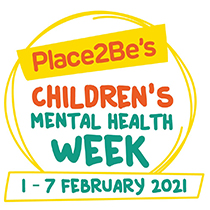 All over the country children are taking part in Children's Mental Health Week. We at Primet would love you to join in too. The theme this year is Express Yourself. Self- expression is a great way to communicate how we feel and we've added a few activities for you to have a try at home. You could try the art, music, or movement activities or just dress to impress and express yourself. There're some ideas on the link for you to try after you have watched the assembly on Monday 1st February at 9am. It should be super fun and we would really like it if you could send in some photos of you (and maybe your family!) joining in.
Take care and if you need any help please ask.
Mrs Riley (MrsRiley@primet.lancs.sch.uk)
Link to virtual assembly
https://www.childrensmentalhealthweek.org.uk/news/children-s-mental-health-week-assembly-with-bafta-kids-and-oak-national-academy/
The link to the parent/carer advice
https://www.dropbox.com/sh/aaxc4t19k25w8yi/AAAqiWoE0r9cUnGUC_bFq7WOa?dl=0&preview=CMHW2021+-+sharing+with+parents+and+carers.pdf
Links to activities
https://www.dropbox.com/sh/aaxc4t19k25w8yi/AAAqiWoE0r9cUnGUC_bFq7WOa?dl=0&preview=Express+Yourself+-+Primary+Group+Activities.pdf
Pendleside Hospice Art Competition
We thought that it may be a nice idea to bring a little cheer into our lives at this time so we have designed an art competition which we thought you may be able to do with the children, either in school or remotely for those at home. The idea is for the children to draw, paint or craft a sunflower. They can then email a photo of this to us for judging and the winning design will be used on all the marketing material for our sunflower memories appeal 2021. We would also love for children to put their sunflowers in their windows at home, like they did with their rainbows in 2020 and let's see if we can spread a little brightness in these times.
I very much hope that you will be able to support us with this and if you have any questions, please do not hesitate to contact me.
Take care and stay safe,
Jo x