EYFS
Welcome to the Summer Term in Reception
The children are continuing to be enthusiastic about their learning and are keen to complete the weekly Rainbow Challenge!
To help at home please try and read with your child on a daily basis, looking for those tricky words and using their phonics knowledge to segment and blend words to read sentences. Why not pop to the local library and try out some new books!
Don't forget those daily maths activities too such as counting out cutlery or sharing a pizza equally.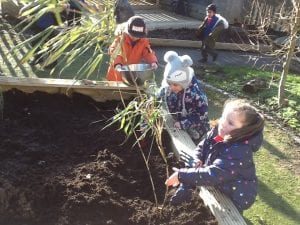 You can keep up to date with your child's learning and development through Tapestry and we would appreciate comments and for you to share your experiences from home and when you are out and about by adding an observation! You could also send in things from home for us to look at and celebrate!
During the Summer Term we will be assessing your child against the 17 Early Learning Goal, so keep giving your child a range of experiences that we can discuss and explore.
The EYFS contains 7 areas of learning. This is what we will be learning about during Summer 1:
Personal, Social and Emotional Development
Listen to other's ideas and think about their own and other's feelings.
Continue to develop turn taking and problem solving skills.
Resolve problems between each other.
Being independent learners and knowing when to ask for help.
Communication and Language
Follow instruction with several steps.
Listen and concentrate.
Role play favourite stories and come up with new story lines in their play.
Listening to others in conversation and respond.
Answer how and why questions.
Extending vocabulary.
Use the past, present and future tense to talk about events that are important to them.
Physical Development
Move confidently in a range of ways.
Negotiate space effectively.
Handle and transport tools and resources safely.
Understand the importance of a healthy diet and exercise.
Wash and dry own hands.
Hold a pencil correctly and form clearly identifiable letters.
Look after own property.
All Reception class children take part in a PE lesson on Fridays this half term. Please make sure your child has their full kit in school each week and that each item is labelled with their name.
Literacy
Focus Texts: The Very Hungry Caterpillar and The Bad Tempered Ladybird
Talk about what they have read and answer simple questions e.g. Who is the main character? What happened in the middle of the story? How was the problem resolved?
Forming letter sounds correctly.
Recognise phase 2/3/4 sounds and tricky words.
Blend phase 2/3 phonemes for reading.
Read simple words and sentences.
Write CVC, CCVC, CCVC and CVCC words e.g. top, rich, swim and jump.
Write simple sentences using their phonics knowledge which they can read themeselves and can be read by others.
Try this link below to practise a range of phonics skills:
Maths
Count and order numbers within 20.
Say what one more and one less than a number up to 20 is.
Compare and order items by capacity.
Use everyday language related to time e.g. recognising o'clock times.
Recognise, create and describe patterns including repeating patterns.
Find half/double.
Try these links below to practise a range of maths skills:
http://http://www.crickweb.co.uk/Early-Years.html
http://http://www.ictgames.com/resources.html
Understanding of The World
Observe the life cycle of a butterfly - live caterpillar observations.
Ask questions about the world.
Go on minibeast hunts.
Notice and describe changes over time.
Understand that we all like different things.
Use programmable toys e.g. Bee Bots.
Take pictures of our learning on an iPad.
Understand that technology is used in homes, schools and shops.
Discuss festivals and celebrations such as St George's Day and May Day.
Expressive Art and Design
Construct with a purpose in mind e.g. make props for stories.
Play imaginatively adding a story line into their play.
Explore changing the words of a song to create a new song.
Express themselves through art, song or dance.
Colour mixing for a purpose.
Learning through play
In the Early Years Foundation Stage, children learn a range of skills through carefully planned opportunities for play. Children will continue to develop their own interests and language skills through supported and independent learning in our continuous provision, both indoors and outdoors.
If you have any questions please come and see us.
Happy learning!
Miss H Cookson, Miss I Hussain and Miss S Dark.