Communication and interaction (ASD) (SALT)
There are various resources you can use to support your children whose area of need comes under communication and interaction. It maybe that your child is on the autistic spectrum, they may have speech, language and communication needs or a combination of both. Below we have given some suggestions of activities and resources you can use to support your child at home. These activities and resources are strategies we use in school and have been advised by our speech and language therapists. For ASD pupils we advise parents keep to a structured routine similar to school. Remember to provide lots of breaks inbetween learning.
Colourful Semantics
In school we often use colourful semantics to support children with early language and sentence construction. It can also help with expanding vocabulary, improving sentence length, improving the use of nouns, verbs, adjectives and adverbs. Colourful semantics uses symbols to help sort and order words but it can also be used to help develop speaking, listening and writing skills. Pupils can use colourful semantic to respond to questions and make sentences. You may use these when your child is writing stories in English or it can be used to encourage discussions and conversation around an activity.
Colourful semantics uses the following colour scheme for each group of words:
Who – Orange
What Doing (verbs) -Yellow
What- Green
Where - Blue

Now and next
At school we use 'Now and next boards' as a simple visual timetable to prepare the pupils for change. This can also be used at home.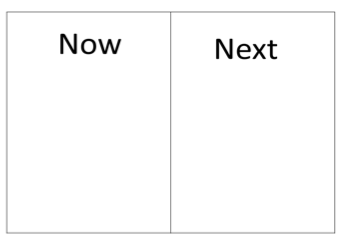 Visual Timetables
Visual timetables can be pictures/photographs that are displayed at the beginning of the day to show a child how the day will be sequenced.
Social Stories
Social stories are written for pupils so that they can understand certain situations more easily. You can see examples of social stories on the link below.
This link has a wide range of resources as mentioned above. https://integratedtreatmentservices.co.uk